A Requiem: Tribute to the Spiritual Space at Auschwitz
September - December 2021, Schumacher Gallery, Capital University
Please direct all booking inquiries to Hava Gurevich, Director, art2art Circulating Exhibitions: hava@art2art.org
art2art Circulating Exhibitions is a traveling exhibitions company specializing in photography and works on paper. Some of their exhibition listings include Dorothea Lange, Arnold Newman, Disfarmer and Elliott Erwitt.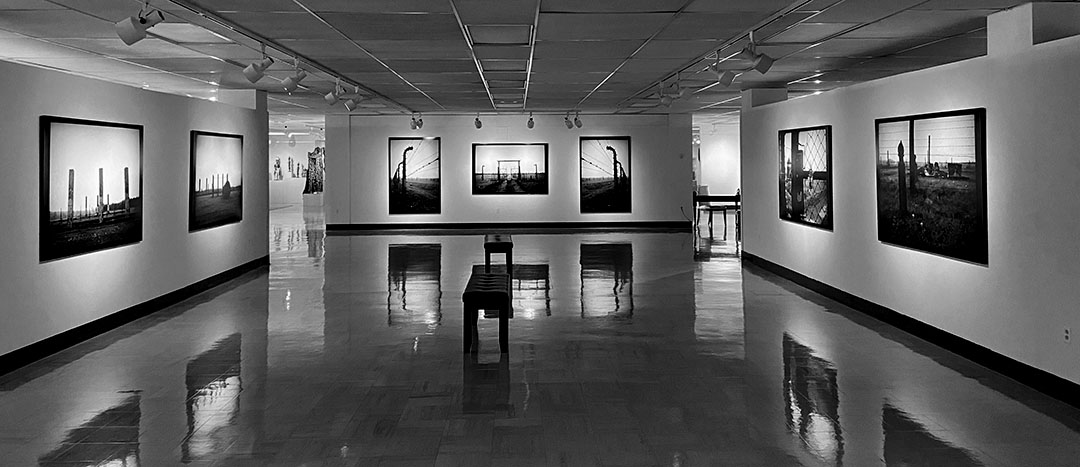 Schumacher Gallery, Capital University, courtesy of the Schumacher Gallery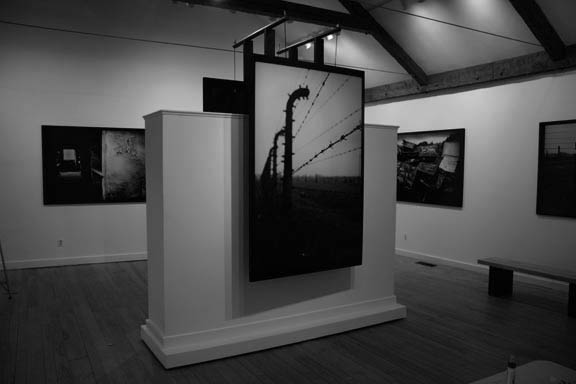 Griffin Museum of Photography, Photograph © Frank Tadley


Please click on the images below, taken at the Griffin. Most will show you a larger image. Some also have additional images or information.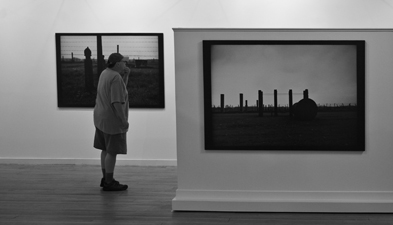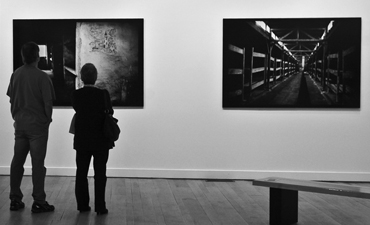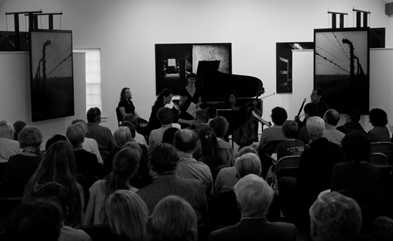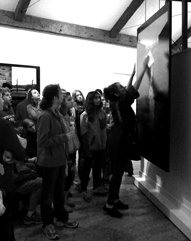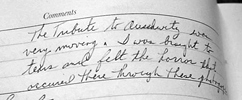 At left, faculty of the Winchester Community Music School perform Messiaen's "Quartet for the End of Time." Photo, center, © Frances Jakubek, I discuss the exhibition with a really sharp class of 7th graders. At right, are comments in the Guest Book; please click on that image to see several other comments.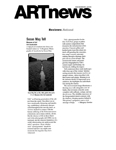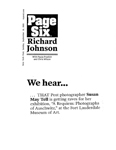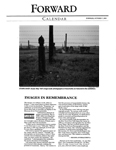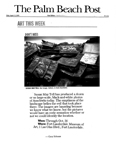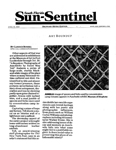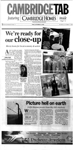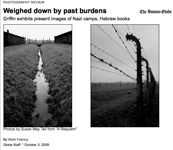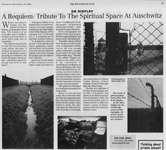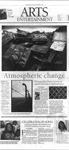 Selected reviews in the press. Please click on the images to enlarge and read them.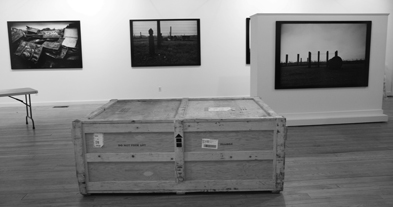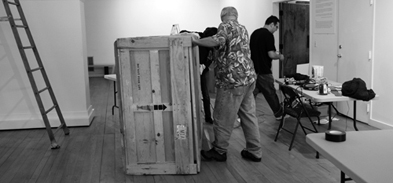 The crate which holds the entire exhibition - before and after being filled with all the photographs.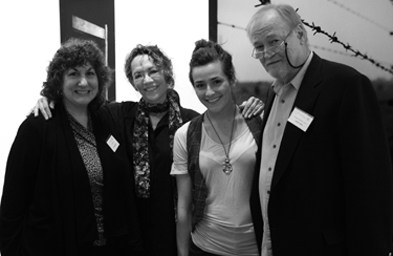 Many thanks to the Griffin's Executive Director Paula Tognarelli (l), Associate Director Frances Jakubek (2nd from rt), and master installer Frank Tadley. photo © Frank Tadley.
REQUIEM, Catalogue!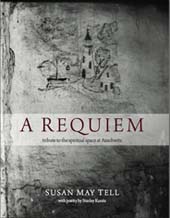 Preview and order copies of "A Requiem: Tribute to the Spiritual Space at Auschwitz, with poetry by Stanley Kunitz"

Please note that the images below were taken during its installation at the Museum of Art / Fort Lauderdale.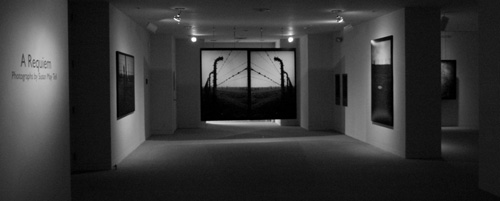 This one person exhibition of photographs by SUSAN MAY TELL first shown at the Museum of Art / Fort Lauderdale in 2005.

Contains up to 17 prints, of which one is printed twice, the second as a reverse. The photographs are printed 6 x 4 feet on gelatin silver paper, full frame, with the sprocket marks visible. They are mounted on 1/8" black sintra and attached to wood strainers, with adjustable length cable on top to adjust to the ceiling height of a venue. They can be hung on the wall, suspended singly from the ceiling, or doubly when attached back-to-back with velcro on the strainers. Each photograph (mounted, strainer, cable) weighs about 15 lbs.

April 2005 - November 2005: Museum of Art / Fort Lauderdale
September - November 2009: Griffin Museum of Photography, Winchester, Massachusetts
September - December 2021: Schumacher Gallery, Capital University, Columbus, Ohio
To schedule bookings and for more information, please contact Hava Gurevich at hava@art2art.org

During the successful 6-month exhibition at the Museum of Art / Fort Lauderdale, Requiem was exhibited along side the works of reknowned sculptor Magdalena Abakanowicz, German conceptual artists Renata Stih and Frieder Schnock, and portrait painter Wilma Bulkin Siegel.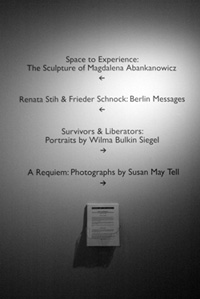 Promoting an exhibition, programming exciting events, and speaking with visitors is important - and something I enjoy and am good at. The exhibition was reviewed by national and local media outlets, including ARTnews, New York Post's Page Six, The Forward, Palm Beach Post, Sun Sentinel, the Assocated Press. This included being interviewed by PBS affiliate WXEL (photo below).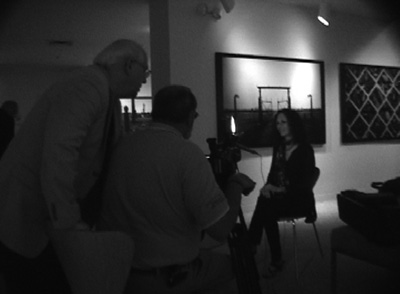 It was a particularly gratifying experience to meet the incredibly capable docents who would be guiding diverse groups visiting the exhibition. They asked questions about my background, the images, technical processes, as well as sharing their personal reactions to the exhibition. It was also an opportunity for me to explain my preferred way for them to structure the experience for the groups they would guide. A Requiem was designed to be an experiential exhibition. There was no wall text, titles, or descriptive information. From the feedback I received visitors did 'experience' the exhibition and for this I am grateful.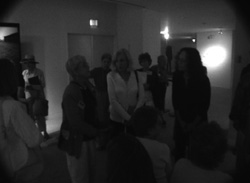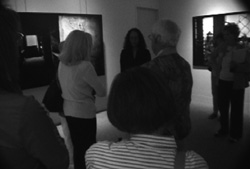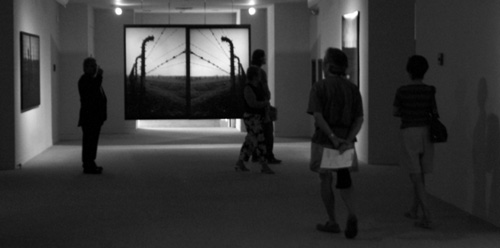 Visitors enter the exhibition spaces, above.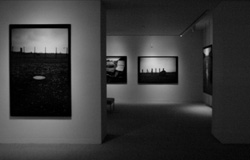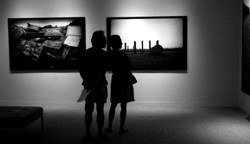 In the images above, the prints are hung on the walls.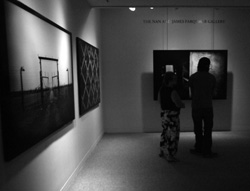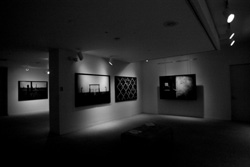 In the image on the left, above, the couple is standing in front of a print suspended by cables from the ceiling.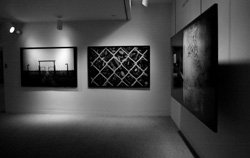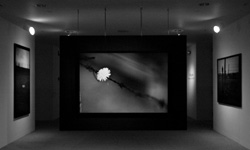 In the image on the left, above, the print on the far right is suspended by cables away from the wall. The print in the image above, right, is likewise suspended from the ceiling but this time away from any wall.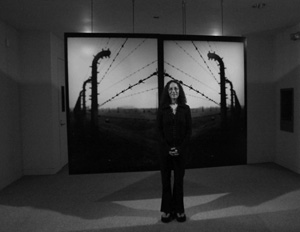 That's me, standing in front of the image printed twice, once as a reverse. As you can see, these are suspended from the ceiling by the adjustable length cable.

In Auschwitz, I felt the presence of its ghosts guiding me, guiding my camera, and was then, and continue to be now, moved to share the tragedy of this place through the images I saw through my lens.
I arrived there almost by happenstance. While planning a trip to Prague and Budapest, I learned that an overnight train goes from Prague to Krakow - and from there it was a short local train ride to Auschwitz.

I walked the grounds in silence, in meditation, photographing the aesthetics, the mood, the sense of foreboding -- and tried to capture the energy that lives in that space.

The prints are specifically left unframed. Hopefully you will find these images reveal the presence of unspeakable horror, convey the ever present pathos of desolation, and give a real sense of the large scale of this death camp.
Equally important to my artistic vision is my commitment to Auschwitz as a meditation on decay and memory. Like others' sacred grounds that are decaying, Auschwitz today is disappearing and raises questions about whether places of this kind should be restored and the importance of memory and commemoration.

My heartfelt appreciation of some wonderful individuals who believed in and encouraged this exhibition - and used their good names and reputations to help make it a reality: Helen Gee, Stephen Feinstein, Sherry Lansing, Barry Munitz, Howard J. Rubenstein and Sharon Waxman.
I am indebted to the wonderful staff at the Museum of Art | Fort Lauderdale who made the inaugural exhibition such a success. Its Executive Director Irvin Lippman - who not only selected it but also came up with its title - plus Anthonly Lauro, Annegreth Nil, Michael Mills and Steve Cantrell.
Sam Mellon of CATE (Curatorial Assistance in Pasadena) who creatively solved how to mount the photos and who designed and built the custom museum crate.

Modernage Photo Lab in NYC for the exquisite job in making sure these large prints were perfect.
Most important, too, my poetic and photographic influences: poets Stanley Kunitz, William Carlos Williams and Wallace Stevens; photographers André Kertész, Roy DeCarava, Walker Evans and Lee Friedlander.

Virtual Museum, Center for Holocaust and Genocide Studies, University of Minnesota